MM Rahmatullah: His Excellency Imran Ahmed Siddiqui, High commissioner-designate for Pakistan to Bangladesh, who before his appointment as high commissioner was his country's consul general in Toronto. Mr. Siddiqui also works for Pakistan in KSA. His Excellency Imran Ahmed Siddiqui will replace H.E Rafiuzzaman Siddiqui, who retired on February 17, 2018. In a recent interview with The Muslim Times, Mr. Imran Ahmed talked about various past and current situations of Bangladesh as well as bilateral issues between Pakistan and Bangladesh. The magnet part of the interview was highlighted for the readers. Interview has been taken by MM Rahmatullah, Executive Editor of The Muslim Times.
The Muslim Times: Bangladesh and Pakistan are two large Muslim countries. How can we build our relationship further?
H.E. Imran Ahmed Siddiqui: Indeed, Pakistan and Bangladesh are two brotherly Islamic states. We share close religious and cultural affinities. We are fellow members of many multilateral organizations including the Organization of Islamic Cooperation (OIC). My personal experience of dealing with all these organizations shows that we have always closely coordinated our positions and endeavoured to take a joint position on issues of mutual interest.
Today, the world, particularly the Islamic world, is facing extraordinary challenges with implications for both Pakistan and Bangladesh. The situation demands even closer cooperation between our two countries.
We need to promote and further strengthen our government-to-government relations and people-to-people contacts at all levels. Bilateral trade needs to be further promoted including by re-invigorating existing frameworks for economic and commercial collaboration as well as by creating new such mechanisms. In this regard, I would suggest that business visa regime needs to be further liberalized. Before coming to Dhaka, I met representatives of Pakistan's business community. They all are very interested in strengthening existing linkages and in establishing new connections. Let us work further on that.
Pakistan and Bangladesh share deep cultural bonds. There is a need to support and encourage frequent cultural exchanges, including between fashion, film and drama houses. We can enrich each other's cultural landscape by promoting collaboration in this area.
Bangladesh cricket team is currently visiting Pakistan. This visit will deepen sentiments of friendliness between two countries. Pakistani spectators do not view Bangladesh as a rival team. You might have seen, they are supporting both Pakistan and Bangladesh by waving Pakistani and Bangladeshi flags.
 Pakistan and Bangladesh need to coordinate closely at all multilateral fora including various bodies of the United Nations, OIC, NAM and SAARC. Our experts accredited to these bodies may hold formal and informal sessions of discussions on issues of mutual concern.
I would conclude by saying that there is no dearth of opportunities. All we need is to work on a strategy aimed at exploiting all these opportunities with a robust political resolve.
The Muslim Times: Do you see any future of SAARC?
H.E. Imran Ahmed Siddiqui: Pakistan attaches high priority to regional cooperation. We believe that SAARC has the potential to advance our region as an important political and economic block. We have, therefore, always supported SAARC and its various initiatives. However, this needs to be understood that strength or weakness of any international organization depends on the political commitment of its members, particularly the larger ones, to an approach that is inclusive.
We will remain committed to the principle of shared prosperity and efforts to resolve regional political and security issues constructively.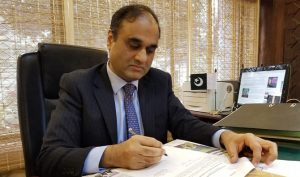 Imran Ahmed Siddiqui, High commissioner-designate Imran Ahmed Siddiqui at his office in Dhaka. Photo: Collected
The Muslim Times: How do you view the state of peace and security in South Asia?
H.E. Imran Ahmed Siddiqui: In the context of South Asia, Pakistan attaches highest priority to the situation in Indian Occupied Jammu and Kashmir (IOJ&K). While IOJ&K situation remains tense, hostile deployment along the Line of Control, India's belligerence and an overtly threatening posture are additional causes of concern. This has been noted by the United Nations Security Council (UNSC) also. Following India's illegal action of 5 August 2019, the UNSC has held consultations on Jammu and Kashmir three times – the latest on 15 January 2020. The convening of the meeting indicates gravity of the situation. Pakistan will continue all necessary political and diplomatic support to the oppressed Kashmiri people. This is our foremost priority.
The leadership of Pakistan has underscored that peace and security in South Asia have to be protected from extremist ideologies, politics of exclusion and hegemonic ambitions aimed at establishing fascist ascendancy in the region. This tendency constitutes a threat to regional and international peace and security.
The Muslim Times: What, in your view, are the main points which were discussed during the UN Security Council's meeting on 15 January 2020 and what will be achieved by such meetings?
H.E. Imran Ahmed Siddiqui: The Council's meeting confirmed that India's action of 5 August, 2019, has intensified tensions in the region.  India's illegal action was accompanied by incarceration of political leaders and internet and communication blockade – among other coercive measures.
Under the Charter, the UN has the responsibility to prevent and remove threats to international peace and security and to take effective measures for suppression of acts of aggression. UNSC is the primary UN organ to hold discussions and take action as part of its Charter obligations.  We hope that the Security Council will fulfill its responsibility in the interest of regional peace and security.
The Muslim Times: Bangladesh is struggling with more than one million Rohingya refugees. How Pakistan can play a bigger and effective role in different regional and international platforms for ensuring a sustainable Rohingya repatriation?
H.E. Imran Ahmed Siddiqui: Pakistan has condemned violence against Rohingya community. We are constructively engaged with international organizations including the Organization of the Islamic Cooperation (OIC) where this issue is being discussed. We will continue our efforts, in this regard. In the recent past, Pakistan hosted the world largest refugee population. We, therefore, understand Bangladesh's position on this issue.
The Muslim Times: How do you view Bangladesh in its golden jubilee year?
H.E. Imran Ahmed Siddiqui: Pakistan views Bangladesh with respect, affection and admiration. Our leadership has sent a message of friendship and respect to brotherly Bangladeshi people. We wish them well and hope to see Bangladesh grow from strength to strength in the years ahead.